Giving you the choice of flexibility.
Our disinfection packages are designed with your flexibility in mind. Whether you have a single car, several vehicles on rotation or a fleet of company vehicles, we have something just for you!
If it's your first time disinfecting your vehicle we'd recommend our CMA+ ADVANCED package which incorporates a super-steam process on all high-contact surfaces prior to the virucidal disinfection process, giving you that extra edge in maximum vehicle cabin sterilization.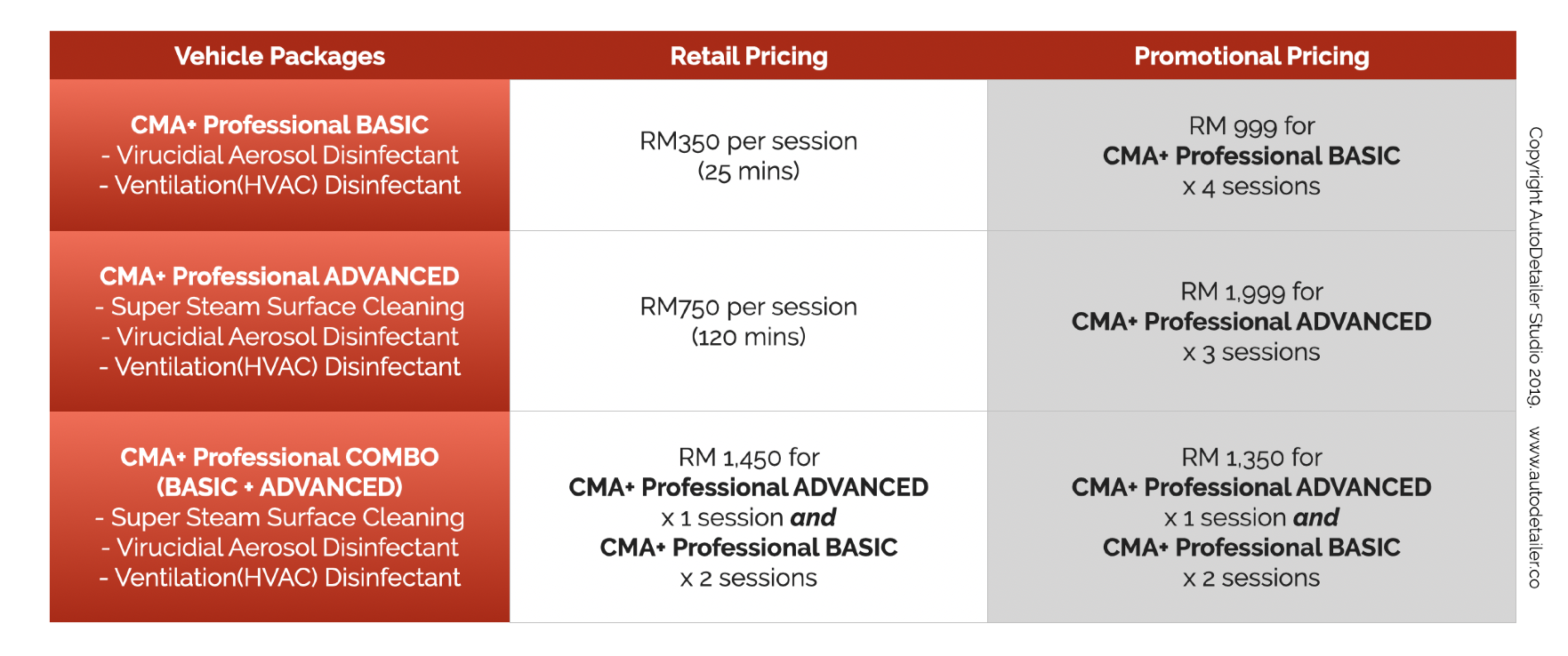 How long does the virucidal/bactericidal protection last?
- The disinfection process is designed to completely sterilize your vehicle cabin. The right measures have to be taken in ensuring the vehicle does not get infected again, such as social distancing and minimising exposure. If the vehicle has been exposed to the virus, then we will have to disinfect it again. The manufacturer recommends a disinfection treatment once every 3 months.
How long does the treatment take?
- The length of time it takes to disinfect your vehicle depends on what protection package you are opting for. One CMA+ Professional BASIC session takes 25 minutes for the application of our Virucidal Disinfection and Ventilation Disinfection Systems. The CMA+ Professional ADVANCED session on the other hand takes 120 minutes with the addition of the Super Steam Cleaning System. The CMA+ Professional COMBO is a combination of the BASIC and ADVANCED packages, and has one session of ADVANCED and two sessions of BASIC, with a total time of 4 hours and 25 minutes. CMA+ Professional COMBO is suitable for a complete disinfection, followed by two maintenance disinfection treatments.
If I have a few company cars to disinfect, is there a package for me?
- The number of vehicles is just as important as the types of vehicles in terms of how we will be disinfecting them. Please contact us so we can work out the details to find the most suitable package for you.
If I have an office to disinfect, can you do that for me?
- Yes we can. We also provide services for workspaces, factories, plants, residential areas, and food service. Please contact us so we can work out the details to find the most suitable package for you.
Why is it important for me to use a virucide?
- Not all antibacterial solutions are effective in inactivating viruses, specifically the human coronavirus. Most vendors from sanitisation services are using general cleaning and anti-bacterial solutions which may not be suitable to combat the pandemic. Our virucide has been proven to kill the human coronavirus for your peace of mind. It is our responsibility to combat this pandemic with facts and not hype.
Why is it important to get my vehicle's ventilation system disinfected?
- The human coronavirus has been spread mainly through water droplets that form when we cough or sneeze (or talk!). The virus can survive in these microscopic droplets, and in the air essentially, and can survive a further several hours when it lands on certain materials. The virus has been known to survive longer on plastics and stainless steel. This is why we combine a Heating, Ventilation, and Air-Condition (HVAC) Disinfectant; as an effective part of our 360 coverage for vehicle interiors.
Should I be concerned about the safety of your facility?
- We have deployed stringent safety protocols from before the MCO and have heightened all measures in addition. Our facility is constantly disinfected before and after any customers arrive, our technicians have been screened for COVID-19, and should any personnel be found to display possible symptoms, they are required to seek medical attention as soon as possible. We have also implemented social distancing measures for our clients and employees. We take pride in our work but like you, we also have families to return home to at the end of the working day. We're all in this together, so we look out for each other.
If I am coming from across town, what do I say to the policemen at the roadblocks?
- Please contact us and we will provide you with an appointment letter to help you get through to us. Remember to reiterate to the policemen/soldiers manning the roadblock that you are going specifically to disinfect your vehicle.
In Malay, to disinfect is membasmi kuman dan virus. Used in a sentence;
Saya hendak pergi ke bengkel untuk pembasmian kuman dan virus yang mungkin ada pada kereta saya.