The Evolution of Paintwork Protection

What is ClearGuard Alpha™?
ClearGuard Alpha™ is a next-generation paint protection film, designed to preserve your automobiles' paintwork through harsh weather, oxidation, potential debris and vandalism. ClearGuard Alpha™ is in a league of its own for automobile paint protection, and is an evolution of ClearGuard Nano SR™as it is four times thicker than the clear coat on your vehicle, and self-heals immediately!
How is ClearGuard Alpha™ different to ClearGuard Nano SR?
ClearGuard Alpha™ features all new molecular level technology that reacts with oxygen to instantly heal in the event of scratches, allowing it to self-heal without the need for heating.
Clarity
ClearGuard Alpha™ is optically clear and is able to showcase all the accented hues of your paintwork with an unmatched clarity. With our custom installation, it is literally invisible, giving your car an extremely liquid finish while maintaining the original factory fitment.
Gloss
ClearGuard Alpha™ is engineered to give your car twice the gloss than that of its original paintwork, for a lasting shine that only requires a weekly wash.
Thickness
With 210 microns, the ClearGuard Alpha™ protects your paintwork from potential stone chips and deep scratching that might penetrate the paintwork and permanently damage the body of your automobile.
Stain-Resistant
ClearGuard Alpha™ has hydrophobic properties built into the film to provide improved resistance against staining, watermark etching and various chemical contamination.
Self-healing
With its new carbon-based self-healing technology, it makes it the first PPF in the world that heals upon contact with oxygen, essentially healing instantly when lightly scratched!
Why ClearGuard Alpha™ is for you
We only use the best products for your automobiles here at AutoDetailer Studio. We are proud to be the exclusive installers of ClearGuard Alpha™ to our clients as there is no other paint protection film like it!
Together with our custom installation, the film lasts for up to 10 years if cared for properly, and gives our clients great value for money as the film can protect the resale value of their investment and the peace-of-mind knowing they have the best protection in the world for their car(s).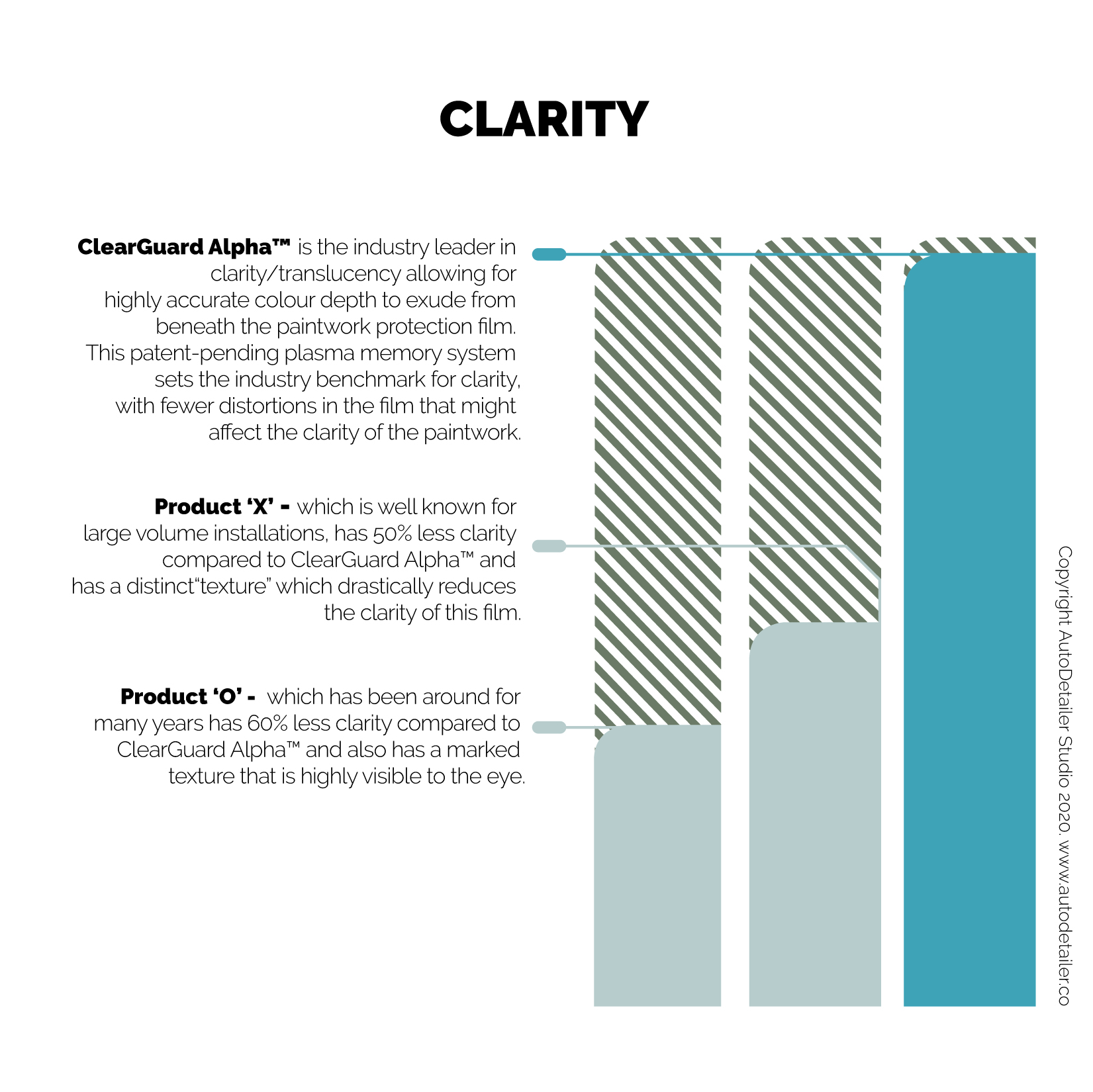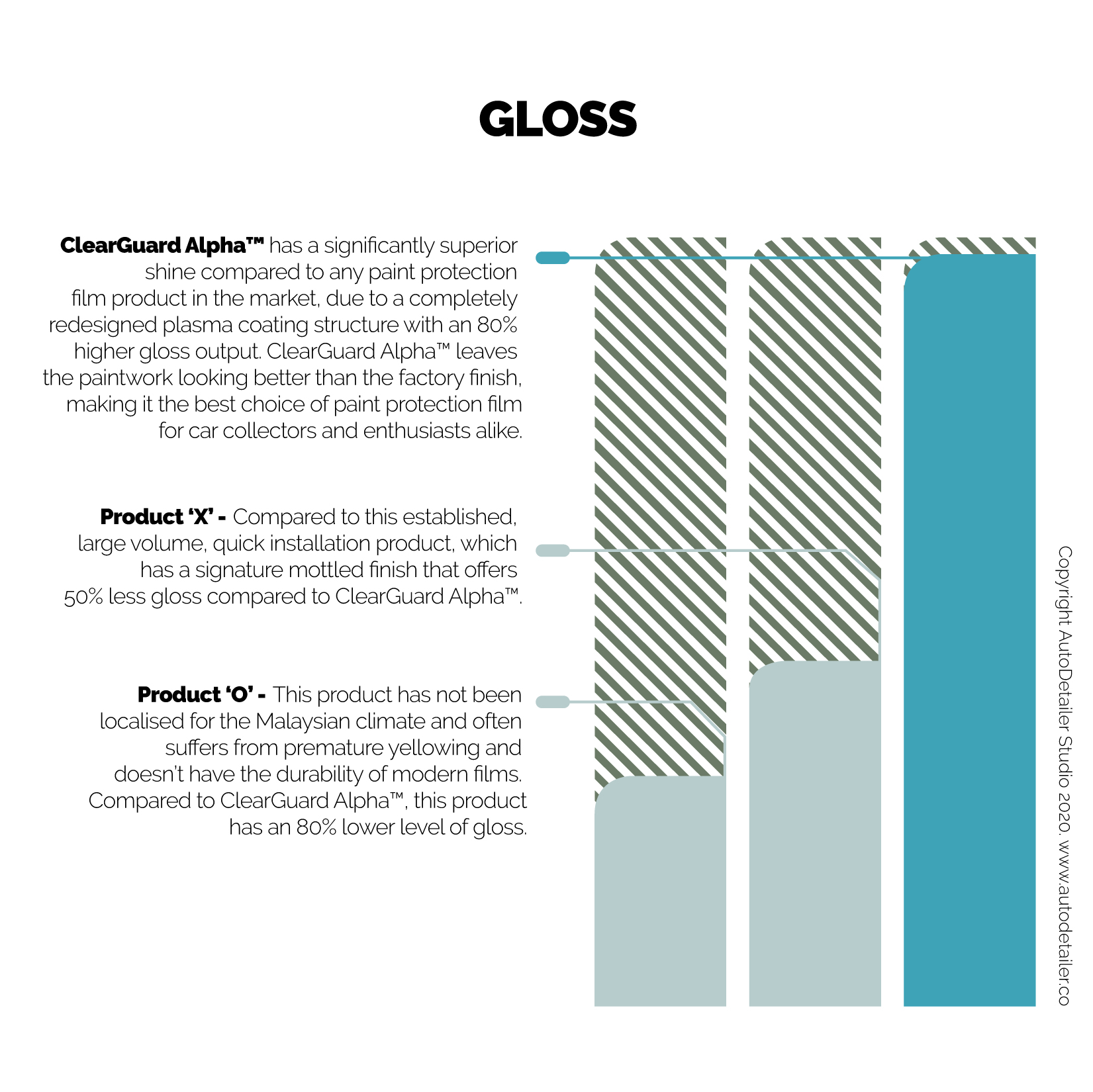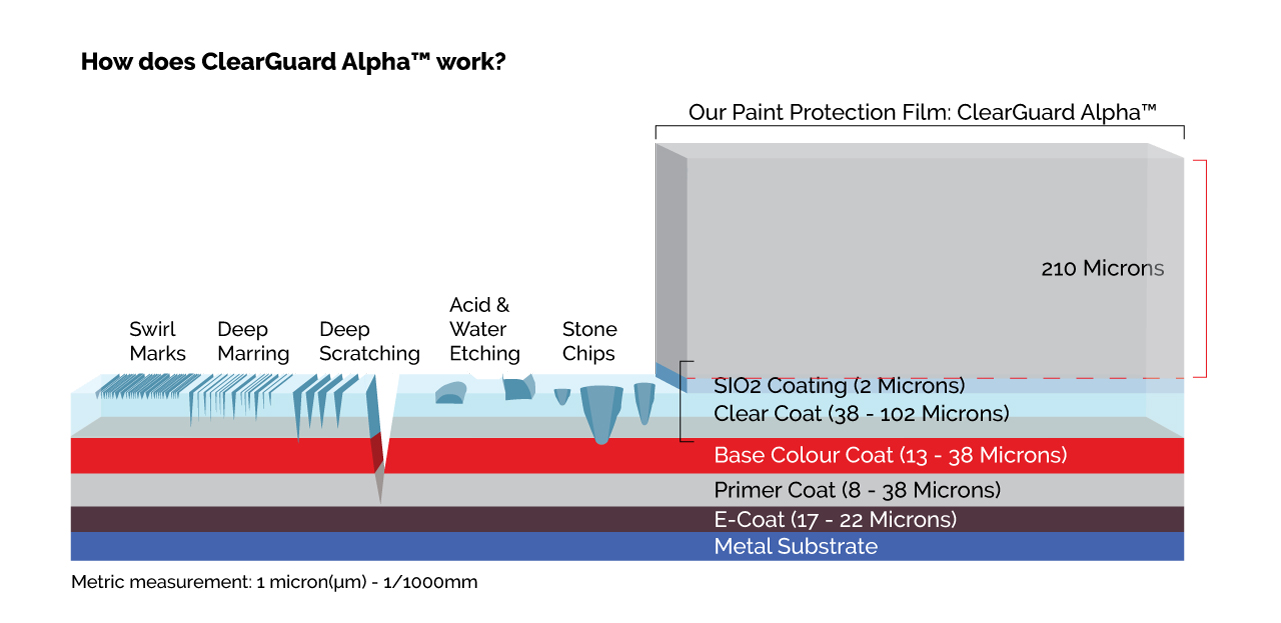 IMAGE CAPTION: (LEFT) Swirl marks, marring, key scratches (vandalism), acid and stone chips can easily penetrate a base coat and potentially damage your paintwork , (RIGHT) ClearGuard Alpha™ provides protection, by forming the ultimate barrier against potential damage from debris and abrasions while providing absolute clarity and shine.
ClearGuard Alpha™ was created to be the best solution on the market today and AutoDetailer Studio is proud to be an exclusive partner in Malaysia.
How does the paint protection film affect my paintwork?
The film does not alter the colour of your original paintwork, but it does increase the glossy appearance of your vehicle.
Why does the service cost this much?
We custom install all of our paint protection films to give the film the best fit for your car. In addition to that, the film is shaped to your car; meaning we do not use premade cutouts. We also remove logos, number plates, and door handles to install the film, to give your car the full protection that it needs. The end product speaks for itself.
What if my car has a matte finish?
We recommend SatinGuard™ for matte painted vehicles rather than ClearGuard Alpha™. SatinGuard™ is virtually invisible upon application to originally-matte vehicles, and will also maintain your vehicle's matte texture without compromising the clarity of the paintwork's finish.
Do I still need to wax my car after I install the paint protection film?
A weekly wash will suffice, as a paint protection film doesn't need any kind of polishing or waxing to retain its ability to protect the original paint.
How long does the paint protection film last?
The film lasts for up to 10 years, if cared for properly. This claim is also backed by a warranty against manufacturing defects.