Unsurpassed Superlative Protection!

What is ClearGuard Nano SR®?
ClearGuard Nano SR® is a class of its own with no competitive products that can match its quality and durability. A top-of-the line engineered 210-micron film that offers 400% more protection for discerning customers who want nothing but the best for their automobile. Based on a high technology polymeric formulation that offers the highest clarity in the industry that brings out depth and totally accurate colour rendition of your paintwork!
Clarity Above All Else.
With its superior gloss finish and extreme optical clarity; any supercar, exotic or luxury sedan will stand out in any crowd. Paint depth and faithful colour reproduction is exemplary. ClearGuard Nano SR® virtually invisible upon installation… the choice is; clear!
Protection: When Thickest Is Best
With its extremely durable high-tech polymeric formulation, ClearGuard Nano SR® is the thickest protection film on the market offering the ultimate protection to your vehicle's paintwork. From highway cruising, track events or even the challenging city streets; you can be assured of protection against stone chips, high impact debris and dirt; without compromise.
No Stain: Your Gain
Even ClearGuard Nano SR® features a unique Anti-Stain formula that ensures your paintwork and the protection film itself is protected against acid rain, bird lime, bugs and soil.
Formability: Molecular Perfection
Complex shapes, unusual curves or peculiar vents are nothing uncommon on todays' sophisticated world of high end motoring and exotic cars. ClearGuard Nano SR® was designed for your vehicle in mind using a complex molecular structure that allows for this film to fit over the most complex surfaces!
Self Rejuvenation: The Art of Healing
Just as human skin heals; so does ClearGuard Nano SR®! With just a minor change in temperature or UV exposure, Self-Reconvergence allows the film to 'heal' itself as you drive!
Why ClearGuard Nano SR® is for you
Uncompromised strength, superlative optical clarity, Anti-Stain and Self-Rejuvenation. Designed and engineered for maximum performance for supercars, exotics and luxury sedans and chosen by discerning motorist who only want The Best.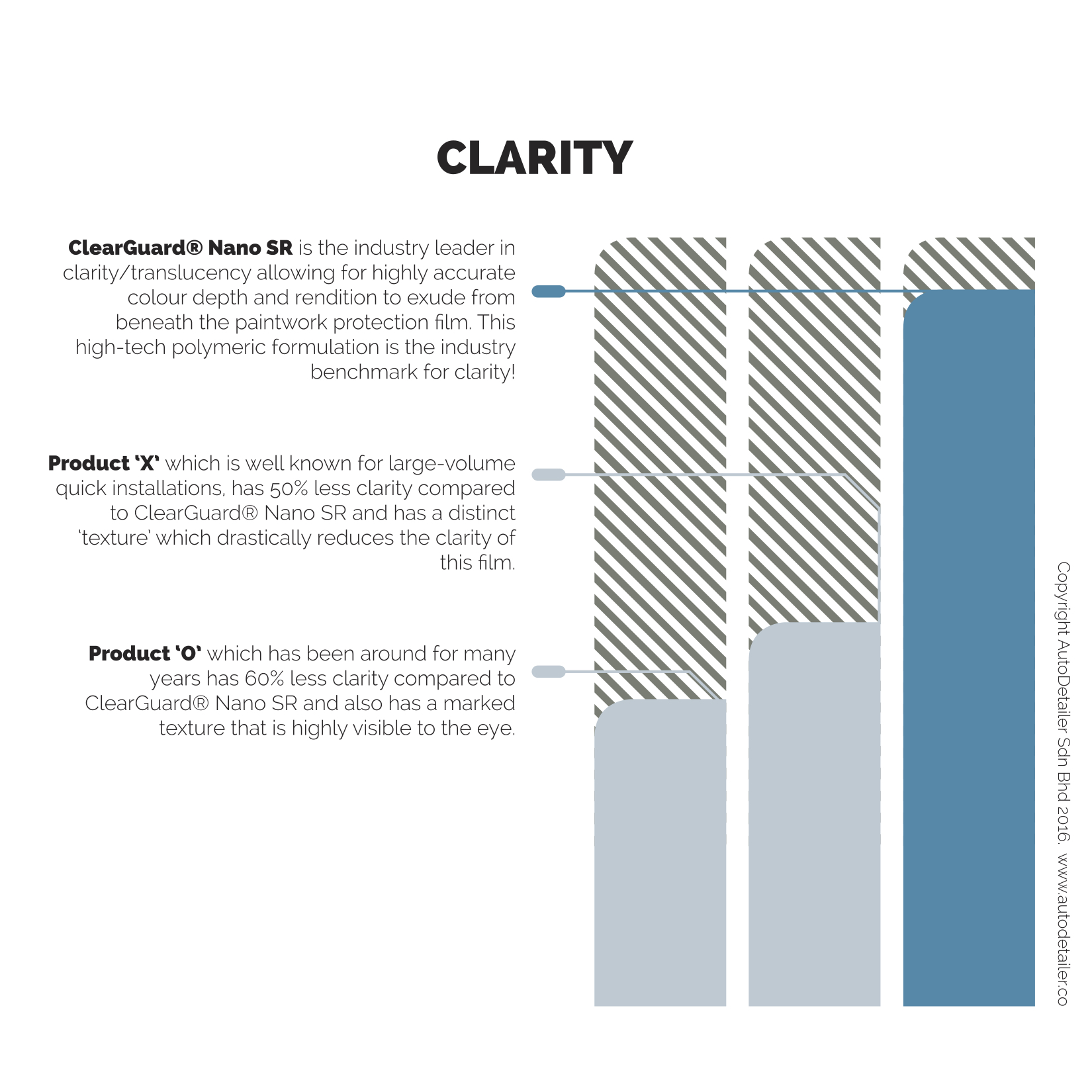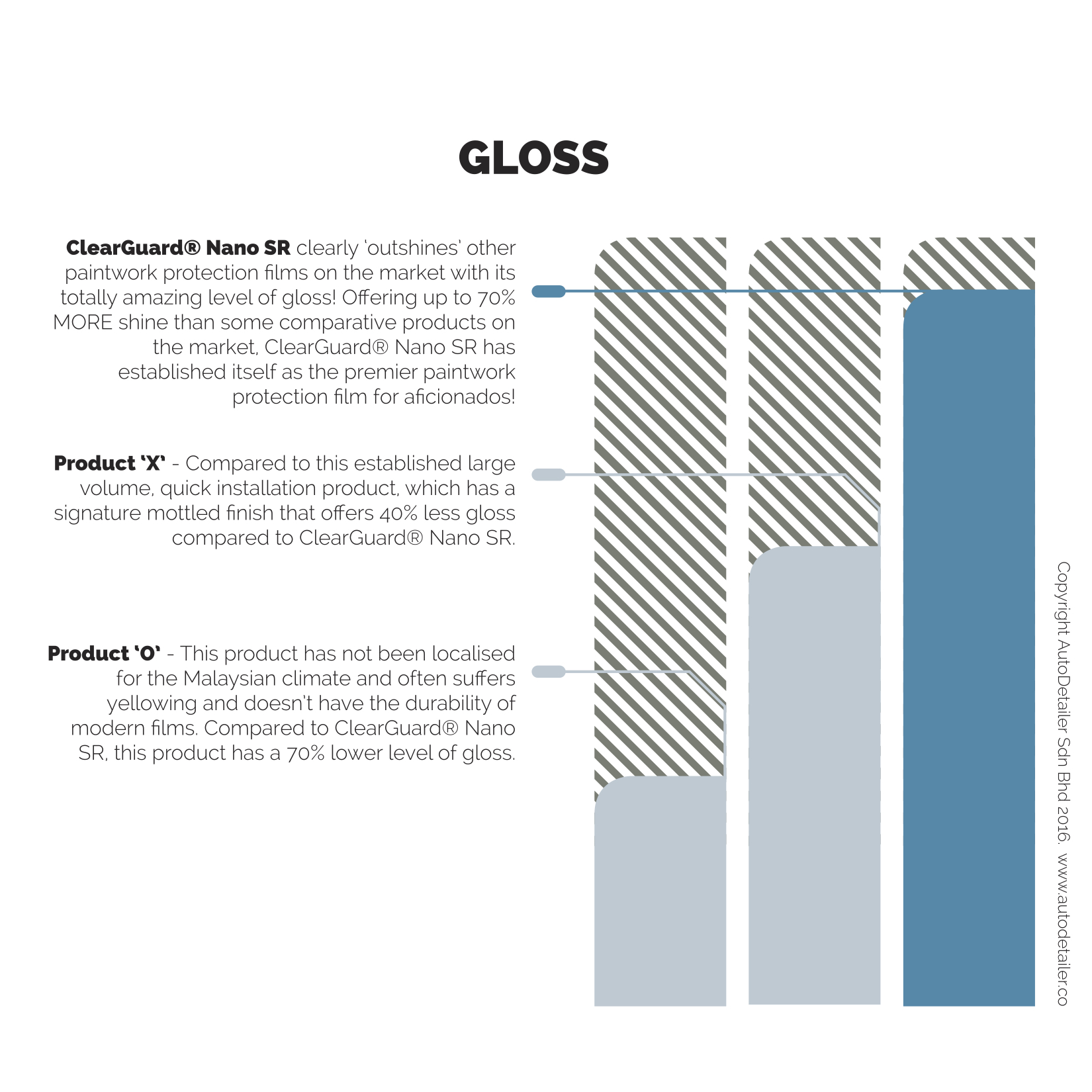 Suitable for automotive afficionados or discerning concours participants looking for a totally no-compromise protection solution!
How does ClearGuard Nano SR® work?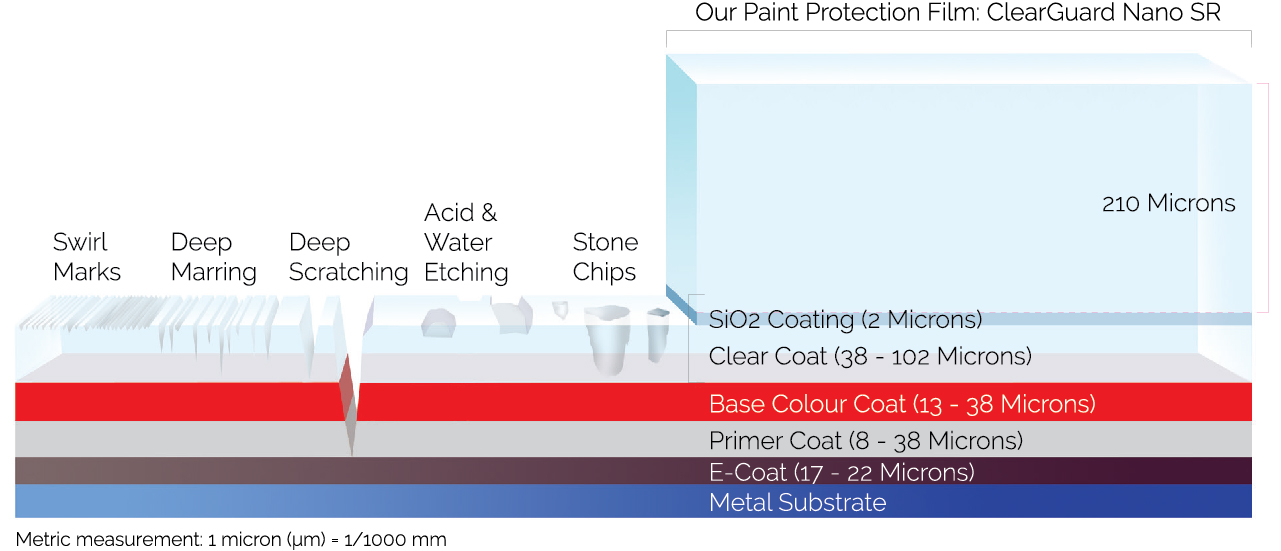 IMAGE CAPTION: (LEFT) Swirl marks, marring, key scratches (vandalism), acid and stone chips can easily penetrate a base coat and potentially damage your paintwork , (RIGHT) ClearGuard Nano SR® provides protection, by forming the ultimate barrier against potential damage from debris and abrasions while providing absolute clarity and shine.
ClearGuard Nano SR® was created to be the best solution on the market today and AutoDetailer Studio is proud to be an exclusive partner in Malaysia.
How long can Paintwork Protection Film last?
A fully installed and maintained ClearGuard Nano SR® Paintwork Protection Film can last up to 10 years and is backed by a warranty from the film manufacturer (terms and conditions apply).
How do I maintain my car's exterior after installing Paintwork Protection Film?
- We recommend a weekly wash.
Do I need to wax or polish my car after installing Paint Protection Film?
- Paintwork Protection Films does not require any polishing or waxing of any kind after installation. It will retain its ability to protect the original paint with reasonable care. As with any paint protection film product, keeping the car parked in a shaded location helps to prolong the lifespan.
Are there any visible seams after the film is applied?
- None at all. All our Paintwork Protection Films are custom measured and cut to each car and we do not use any pre-cut templates. The finish is totally seamless!
What if my existing paintwork is a matte finish?
- With its superior pigment preservation ability and evolved PPF technology, SatinGuard™ is virtually invisible upon application to originally-matte vehicles. SatinGuard™ will also maintain your vehicle's matte texture without compromising the clarity of the paintwork's finish!
Can I use SatinGuard™ paint protection film to give my existing gloss paintwork a matte appearance?
- Absolutely! SatinGuard™ can be applied on top of your glossy paintwork to transform it instantly to have a satin to matte appearance.
How does a Paint Protection Film differ from a coating?
- Silicon Dioxide (SiO2) coatings are a semi-permanent, cost-effective protection option against dust, debris and oxidisation that will require an annual renewal. Paint Protection Films are a robust almost permanent form of protection against, dust, debris, oxidation and stone chips that will last anywhere from 5 to 10 years! Films are usually between 200% to 400% thicker than the original clear coat. Both coatings and Protection Film only require a weekly wash. Both don't require any waxing or polishing but retain a very vibrant shine and clarity!