Ultimate Matte Protection!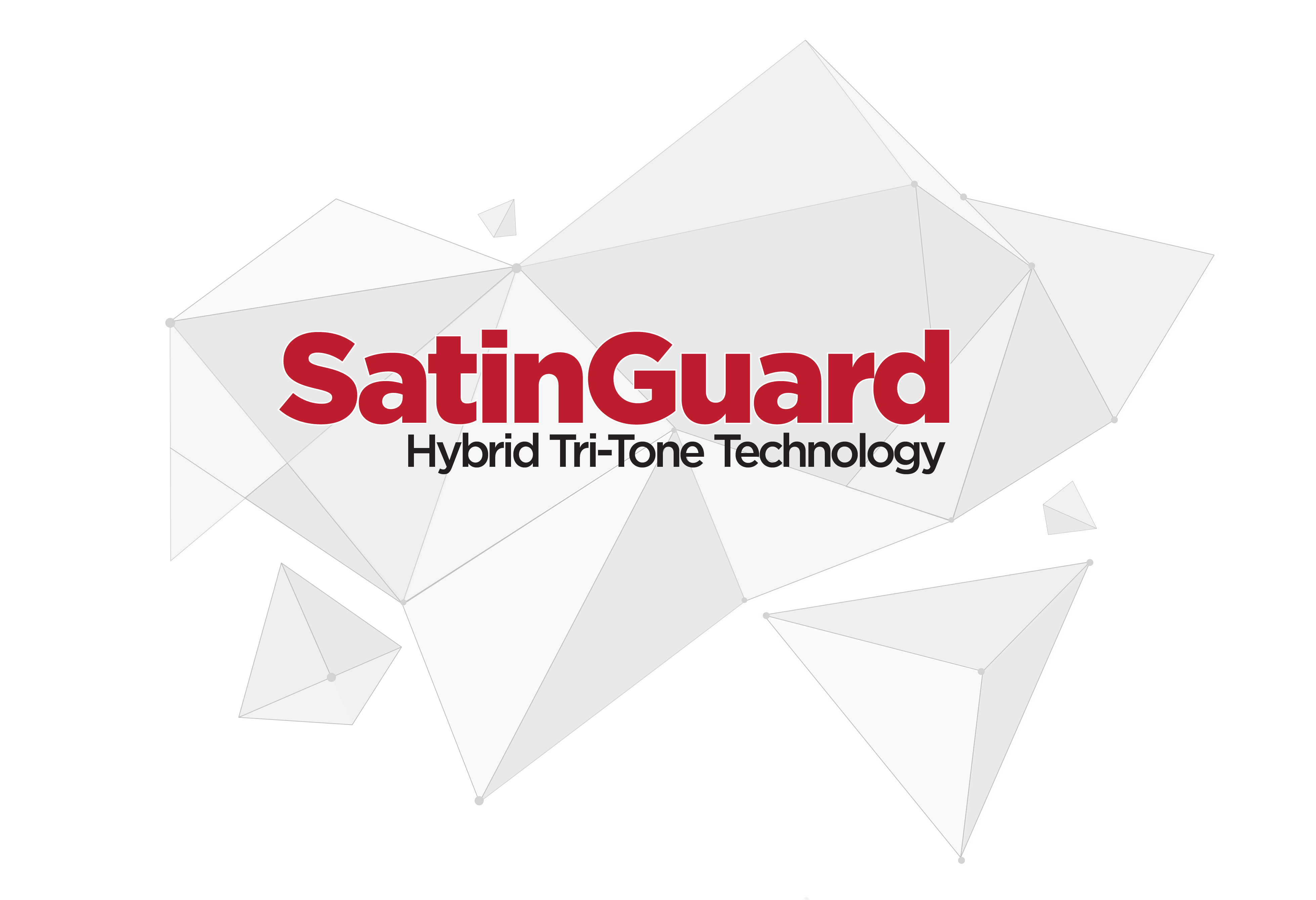 What is SatinGuard™?
SatinGuard™ is a paint protection film in a class of its own with unmatched quality and durability. With an industry-first Tri-Tone technology that allows the film to appear as super matte, sheer satin or fine translucence at different angles, this highly-engineered 210-micron film offers 400% more protection for your vehicle. Based on an advanced polymeric engineering for matte paint protection films, SatinGuard™ preserves metallic pigments in your car's original paintwork and appears virtually invisible when applied to originally-matte vehicles!
Why choose SatinGuard™ Paint Protection Film?
SatinGuard™Paint Protection Film is the best matte paint protection film on the market today. Key features include:
Tri-Tone - SatinGuard™ transforms glossy paintwork to a textured finish that alternates between matte, satin and translucent depending on the angle it is viewed, thanks to its latest Hybrid Tri-Tone Technology.
Extreme Durability - SatinGuard™ is the thickest paint protection film on the market at 210 microns, which is 400% thicker than a clear coat and effectively resists stone chips and small flying debris.
Virtually Invisible - When installed on originally-matte vehicles, SatinGuard™ redefines the standards of paint protection films with its evolved PPF technology and combined superior pigment preservation.
Self-Reconvergence - SatinGuard™'s molecular construct allows it to "heal" itself from minor scratches with an increase in ambient temperature or exposure to UV rays.
Weather-Resistant - SatinGuard™ is engineered to be highly hydrophobic and stain-resistant, allowing dirt and water to simply "roll off" without etching into the film or paintwork!
Flex Conformability - The high-tech polymeric formulation used for SatinGuard™ allows the film to be shaped on the most complex vehicle surfaces allowing for a perfect fitment where other films fail.
Low Maintenance - SatinGuard™ only requires a weekly wash to maintain its lustre, with no need for traditional polishing and waxing routines.
Permanent Protection - SatinGuard™ is designed to last a long time and has a 10-year limited manufacturer warranty against defects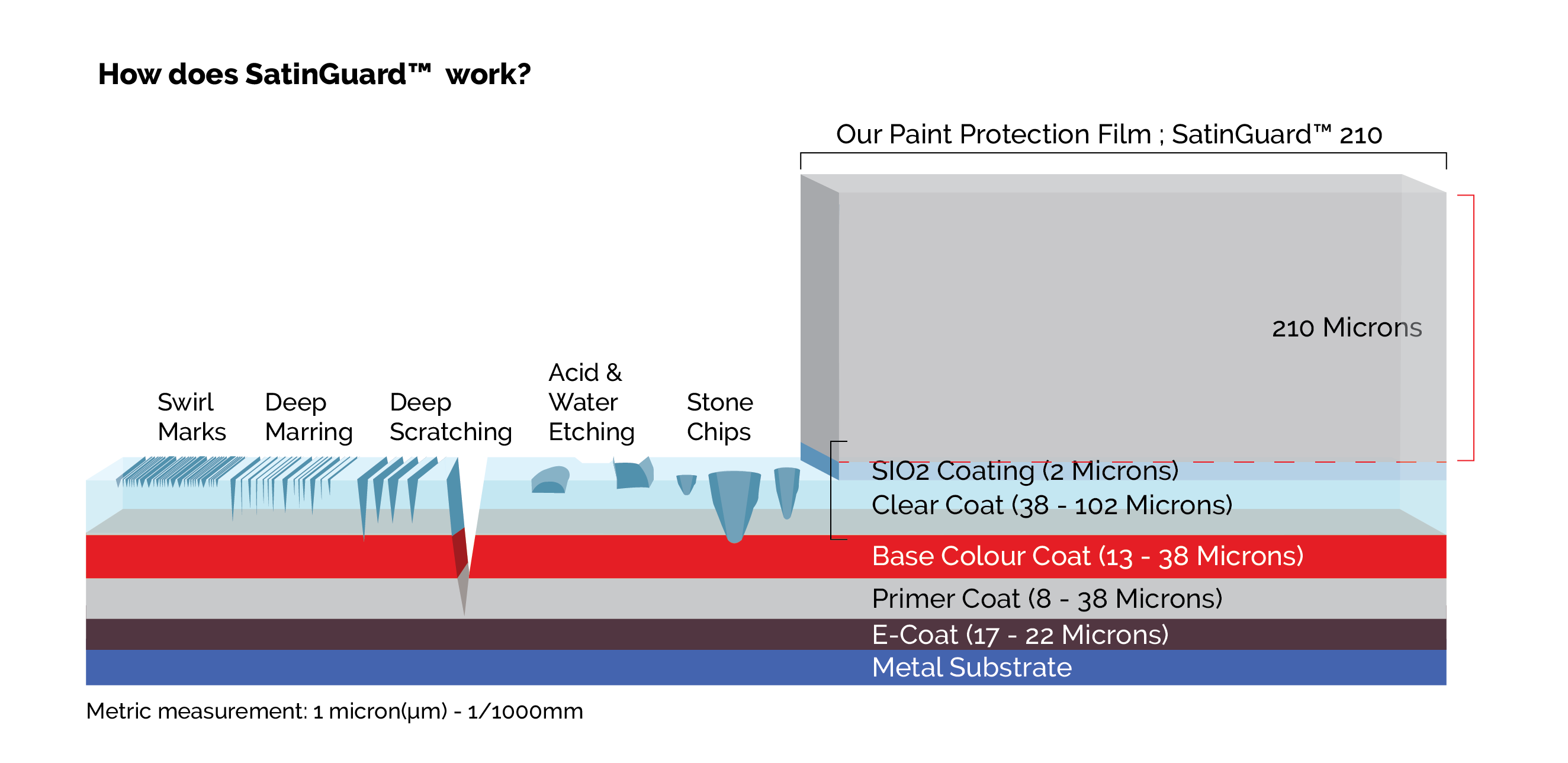 How durable is SatinGuard™?
- A fully installed and maintained SatinGuard™ Paintwork Protection Film can last up to 10 years and is backed by a warranty from the film manufacturer (terms and conditions apply).
How do I maintain my car's exterior after installing Paintwork Protection Film?
- We recommend a weekly wash.
Do I need to wax or polish my car after installing SatinGuard™?
- SatinGuard™ does not require any polishing or waxing of any kind after installation. It will retain its ability to protect the original paint with reasonable care. As with any paint protection film product, keeping the car parked in a shaded location helps to prolong the lifespan.
Are there any visible seams after the film is applied?
- All our Paintwork Protection Films are custom measured and cut to each car and we do not use any pre-cut templates. The finish is virtually seamless!
What if my existing paintwork is a matte finish?
- With its superior pigment preservation ability and evolved PPF technology, SatinGuard™ is virtually invisible upon application to originally-matte vehicles. SatinGuard™ will also maintain your vehicle's matte texture without compromising the clarity of the paintwork's finish!
Can I use SatinGuard™ to give my existing gloss paintwork a matte appearance?
- Absolutely! SatinGuard™ can be applied on top of your glossy paintwork to transform it instantly to have a satin to matte appearance.