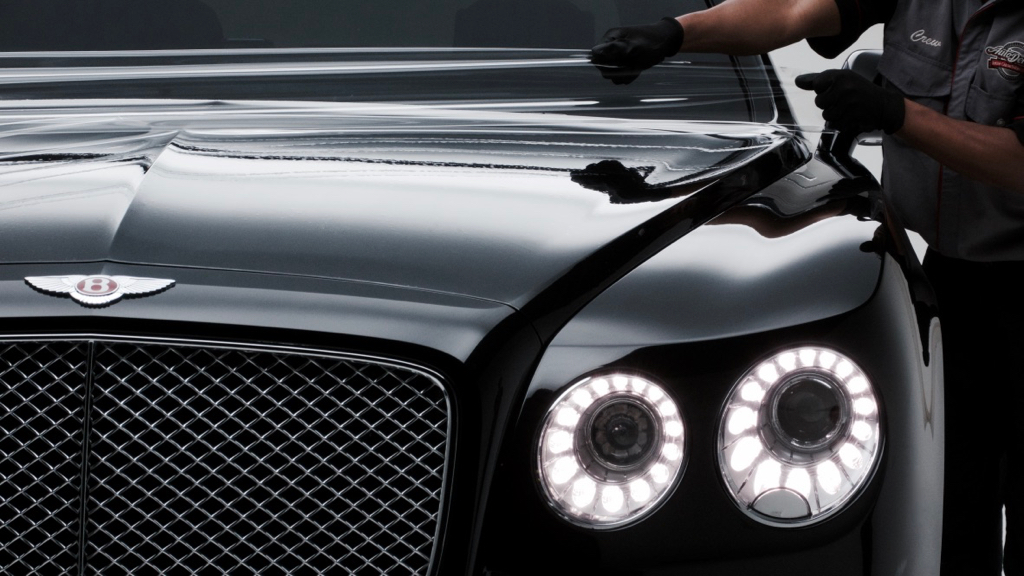 All readied for another day out on the road in full British luxury, this Bentley Flying Spur is definitely up for the moment after receiving our custom-tailored finish! With its high gloss surface and amazing stone chip resistance, ClearGuard™ Nano SR clear automotive protection film is designed to provide the highest levels of protection!
After a complete Signature detailing of the paintwork, it ensures a perfect surface for the film installation. The detailing work also ensures amazing paint depth! As the film is designed to last the lifetime of the car, we are committed to ensuring the paintwork is in perfect condition before it is protected by the film.
ClearGuard™ Nano SR offers full Anti-Stain resistance that keeps away traces of bird lime, insects and acid etching; it ensures cars finished with dark colours (such as this Bentley Flying Spur) will maintain their appearance! Coupled with a Self-Reconvergence feature, ClearGuard™ Nano SR offers unsurpassed protection as the film 'heals' itself after minor abrasions and swirls!
This Bentley also benefits from our hand-tailored film installation that requires precise measurement and cutting of film to match each panel. Still done by hand, our technicians seek to maximize the level of protection the film can offer. This not only assures you that there will be virtually no gaps or seams, but it also ensures no water and dirt gathers on the edges of the film. A perfect fit for a flawless finish!
For more information on our ClearGuard™ Nano SR Paint Protection Film and our Signature Detailing Program, kindly contact AutoDetailer Studio on WhatsApp: +6012-5878-961 or if you would like to speak to our friendly service staff, kindly call us on 03-7960-7940.

For a totally immersive experience we're located at:
AutoDetailer Studio
35-A LG2, Block J, Jaya One,
No. 72A Jalan Universiti,
46200 Petaling Jaya,
Selangor, Malaysia.
GPS: 3.117805,101.635680
Waze Link: https://goo.gl/RktwFF
Google Maps: https://goo.gl/6YXH52
#bentley #bentleymalaysia #bentleymotors #bentleymotorsmalaysia #flyingspur #clearguard #clearguardnano #clearguardnanosr #prestigefilmtechnologies #paintprotectionfilm #ppf #clearbra #custominstallation #autodetailer #autodetailerstudio #noprecuts