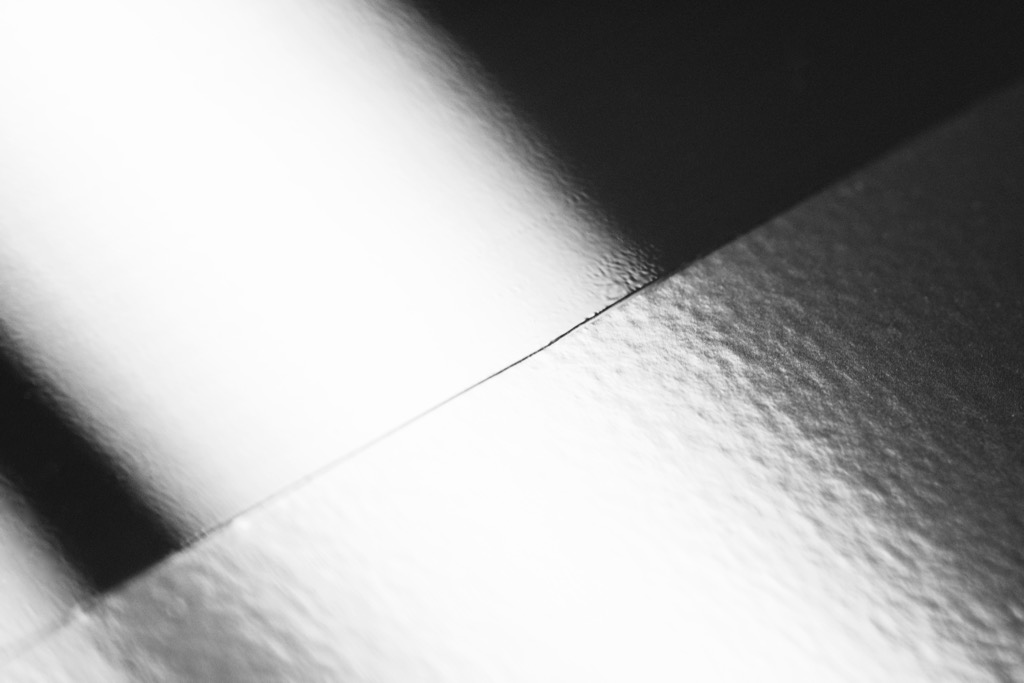 We did a round of raw unedited photos of cars we're working on as well as goings on in the studio and we decided to clear up one common issue on what the 'orange peel' effect is. Like most Paint Protection Films (PPF), all are typically made from a polymer and are designed to adhere on an automobile as a 'second skin' to become a sacrificial barrier to stone chips, debris and elements that cause oxidation of the paintwork.
The 'orange peel' effect is essentially caused by light diffraction, as light passes through an imperfectly formed surface and substrate which is common in low grade Paint Protection Films. The net result is an unwanted 'sheen of white' (visible on the RIGHT side of the black panel) and often the paintwork is obscured leaving a vehicle with an unsightly finish and muted colours. Inferior Paint Protection Films typically leave your car with poor colour rendition and worse still; a dull lacklustre finish. On the LEFT of the panel is our ClearGuard® Nano PF that allows the natural paintwork colour to come through while being visibly clear yet shiny!
AutoDetailer Studio makes thorough assessments of all materials used for our services as we want our customers to get the latest quality materials currently available on the market. For 2016 we're offering ClearGuard® Nano PF as our flagship film which offers up to 400% more protection than your clear-coat and has the ability to self-heal from minor abrasions. After extensive testing, our choice to offer ClearGuard® Nano PF is in-line with our commitment to only offer the best CURRENT available solution! Some solutions on the market have been around for a few years and are already starting to get a bit long in the tooth.
Despite claims by numerous manufacturers about the superlative quality of their offerings; we take it a step further to perform various tests for clarity, shine, strength and durability to test such claims. Though many claim to be equally as good; ClearGuard® Nano PF was definitely ahead of the crowd!
AutoDetailer Studio intends to set the standards and raise the bar for quality, commitment by using the latest available technology to satisfy the discerning tastes of our customers.
Feel free to contact us if you want to experience the best paintwork protection solution in Malaysia!