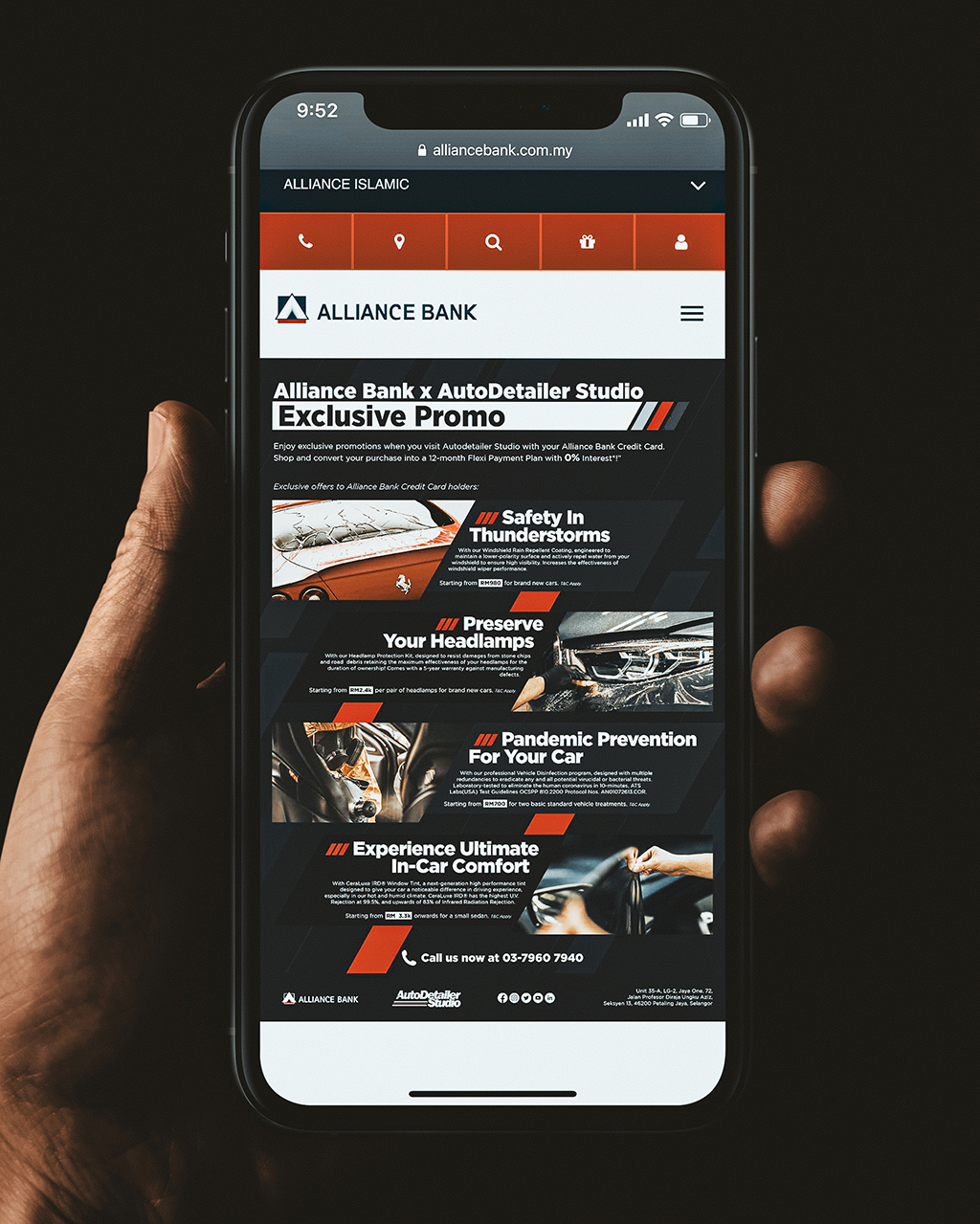 AutoDetailer Studio is proud to announce our collaboration with Alliance Bank to introduce an Flexi Payment Plan for Alliance Bank Credit Card holders!
The Flexi Payment Plan comes with a 0% interest rate over a 12 month tenure. In addition, enjoy these exclusive offers to Alliance Bank Credit Card holders:
Safety In Thunderstorms
With our Windshield Rain Repellent Coating, engineered to maintain a lower-polarity surface and actively repel water from your windshield to ensure high visibility. Increases the effectiveness of windshield wiper performance.
Starting from RM980 for brand new cars.
Preserve Your Headlamps
With our Headlamp Protection Kit, designed to resist damages from stone chips and road debris retaining the maximum effectiveness of your headlamps for the duration of ownership! Comes with a 5-year warranty against manufacturing defects.
Starting from RM2.4k per pair of headlamps for brand new cars.
Pandemic Prevention For Your Car
With our professional Vehicle Disinfection program, designed with multiple redundancies to eradicate any and all potential virucidal or bacterial threats. Laboratory-tested to eliminate the human coronavirus in 10-minutes, ATS Labs(USA) Test Guidelines OCSPP 810.2200 Protocol Nos. AN01072613.COR.
Starting from RM700 for two basic standard vehicle treatments.
Experience Ultimate In-Car Comfort
With CeraLuxe IRD® Window Tint, a next-generation high performance tint designed to give your car a noticeable difference in driving experience, especially in our hot and humid climate. CeraLuxe IRD® has the highest U.V. Rejection at 99.5%, and upwards of 83% of Infrared Radiation Rejection.
Starting from RM 3.3k onwards for a small sedan.
*Terms & conditions apply.
*Please note that a vehicle inspection is required prior to any transaction, and all inspections are by appointment only.
For more information, please visit https://bit.ly/314rw5l or WhatsApp us at http://www.autodetailer.co/ask_detailing
If you are interested in booking an appointment with us, please call us at +603-7960-7940.