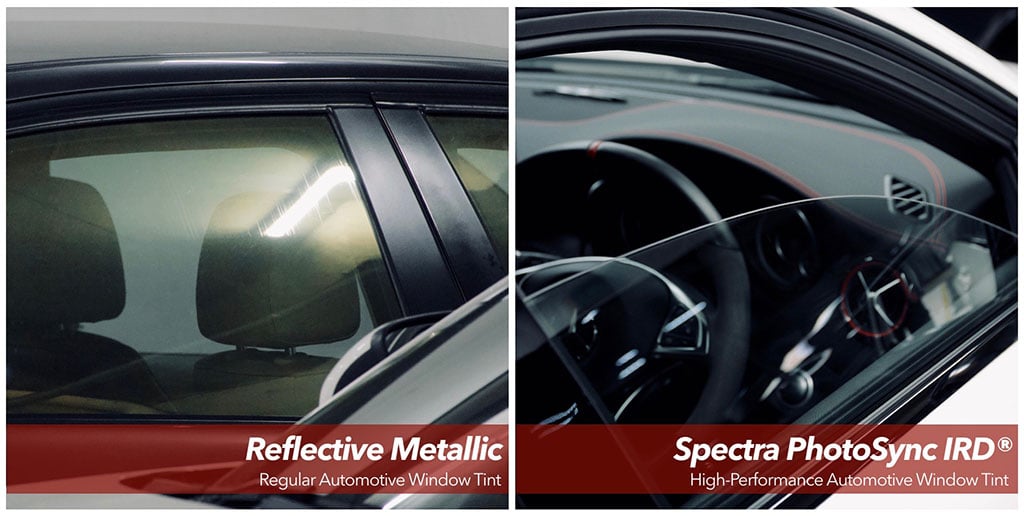 What Are Reflective Window Tints?
They are commonly available as a cheap window film alternative but it comes at a cost to the user. High reflectivity window tints usually contain high levels of metallics which give it that distinct silver/gold reflective look from the outside looking in. The downside is that they are typically poor in heat rejection and also presents a very opaque view for the user compared to high-quality window tints that have high levels of clarity. This results in a poor driver comfort experience with strong cumulative heat and blurred vision.
Our flagship window tint Spectra PhotoSync IRD®, on the other hand, utilises quantum science to achieve high solar radiation rejection and heat dispersion without increased reflectivity by targeting specific infrared wavelengths that other window tints cannot reach and blocking them effectively.
Crystal Clear View
Even at its darkest shade of 30% VLT (Visible Light Transmitted) where glare reduction is at its greatest, Spectra PhotoSync IRD® window tint maintains perfect clarity with absolutely no pattern effects on screen. Visibility is outstanding even through the darkness of the tint, due to a colour-stable composition technology which resists colour degradation.
Zero Interference
Because Spectra PhotoSync IRD® does not contain metallic particles like other traditional window tints, it has the added advantage of being free from signal interference. From hassle-free Smart Tag access, uninterrupted GPS during navigation with Waze or Google Maps and an improvement on your mobile phone conversations with less dropped calls, Spectra PhotoSync IRD® redefines your driving experience!
Protected For Life
Spectra PhotoSync IRD® is designed to resist performance degradation and is currently the industry leader in this segment. Drive with peace of mind knowing that your car's window tint has a generous Limited Lifetime Manufacturer Warranty.
Second To None
Spectra PhotoSync IRD® high-performance window tint by Prestige Film Technologies is currently the most advanced window tint in the world. It is manufactured in the United States of America providing drivers and passengers the highest possible protection from extreme heat, solar radiation, and harmful UV rays, remaining truly unequalled in performance and comfort.
Spectra PhotoSync IRD® is now available in the series: SPH70, SPH55, SPH45, SPH30
For more information on our Spectra PhotoSync IRD® window tint, kindly contact AutoDetailer Studio on WhatsApp by clicking https://www.autodetailer.co/ask_sph or on Facebook Messenger by clicking http://m.me/autodetailerstudio. If you would like to speak to our friendly service staff, kindly call us at 03-7960-7940.
For a totally immersive experience we're located at:
AutoDetailer Studio
35-A LG2, Block J, Jaya One,
No. 72A Jalan Universiti,
46200 Petaling Jaya,
Selangor, Malaysia.
GPS: 3.117805, 101.635680
Waze Link: https://goo.gl/RktwFF
Google Maps: https://goo.gl/6YXH52